UXBRIDGE/WATERLOO— The Golf Association of Ontario's (GAO) Investors Group Junior Spring Classic wrapped up on May 18 after three days at Wooden Sticks Golf Course in Uxbridge and Grey Silo Golf Course in Waterloo. When all was said and done it was Max Sear who captured the boys' title while Alyssa Getty took home the girls' championship.
At the junior boys' event, taking place May 16-18 at Wooden Sticks Golf Course, a tremendous final round by Golf Canada Development Squad member Trevor Ranton put the pressure on second-round leader, Team Ontario's Sear. Waterloo's Ranton carded a six-under (66) during the final round moving him to seven-under for the tournament (68-75-66-209). That meant Sear had to finish the round at two-under to force a playoff or better for the win. Unionville's Sear was up to the task and finished two-under 70 (69-70-70-209) and forced the playoff.
During the playoff it was Sear, the York Downs Golf & Country Club member, who was able to pull out the win with a par on the first extra hole to win the Investors Group Junior Boys' Spring Classic.
Ranton, the Whistle Bear Golf Club member, still had a strong showing this week. He followed up his win at the CN Future Links Pacific Championship last weekend with the Junior Spring Classic silver medal.
After his win Sear spoke about his tournament. "It felt good out there today," said Sear. "I started off slow but got going on the back nine. I felt good all day. Trevor and I are good buddies and if I had to go up against someone, in a playoff, I'm glad it was him because we both enjoy the pressure. I wanted to see him do well but at the same time I also wanted to beat him. We both played well today, so it was a lot more fun for everybody."
Completing the top three were London's Jackson Bowery and Waterloo's Tyler Douse who both finished even for the tournament. Bowery, the Team Ontario member from the Green Hills Golf Club finished 70-73-73 for a total of 216.  As for Douse, from Westmount Golf & Country Club, his tournament scores were 70-71-75 for a total of 216.

Capturing the Juvenile Division was Aurora's Jack Simpson. Simpson, from the Beacon Hall Golf Club finished the tournament at five-over (74-68-79- 221). Thanks to his low second round, Simpson was able to build up a big lead and rode it right through the final round to win the Juvenile Championship.
Over at the junior girls' event at Grey Silo Golf Course, for the third day in a row a new name topped the leaderboard but this was the round where it counted. Ruthven's Alyssa Getty came into the round just one shot off the lead. After 18 holes, the Team Ontario and Kingsville Golf & Country Club member was two-over (73) for the day, bringing her tournament total to six-over (71-75-73-219) good enough for a one-shot victory.
The victory was extra sweet for Getty who fell just short last year. "I'm really excited that I played well this year and gave myself a chance to win. I am proud that I came out and got it done. I think my bad shots didn't get me into a lot of trouble, so I stayed around even and kept it consistent. I was proud how I handled the pressure and happy overall with how I played."
Finishing second was second-round leader, and fellow Team Ontario member Chloe Currie. The Port Credit native and Mississaugua Golf & Country Club member finished the day at four-over (75) bringing her total to seven-over (72-73-75-220).
Taking the bronze medal, and making it an all-Team Ontario sweep of the medals, was Richmond Hill's Monet Chun. Chun, the Summit Golf & Country Club member, led after round one and finished the day four-over 75, to end the tournament 10-over (69-79-75-223).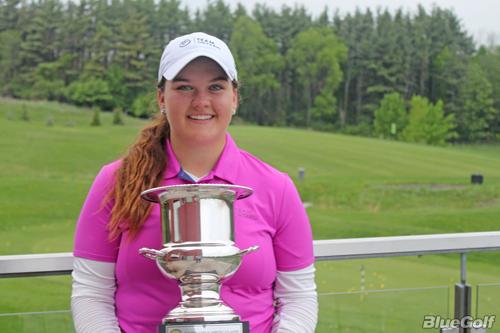 About the Investors Group Spring Classic
The Investors Group Junior Spring Classic Championship is a 54-hole stroke-play competition contested annually over the Victoria Day long weekend that features many of Ontario's best male and female junior golfers. The field of competitors gained entry to the competition through a qualifying process earlier in the season. For more information and complete results see the tournament page at:
http://gao.bluegolf.com/bluegolf/gao15/event/gao1514/index.htm
http://gao.bluegolf.com/bluegolf/gao15/event/gao1515/index.htm
The GAO would like to thank the members, volunteers and staffs at both Wooden Sticks and Grey Silo for their support over the course of the weekend.
Investors Group Junior Boys' Spring Classic Photos
[nggallery id=104]
Investors Group Junior Girls' Spring Classic Photos
[nggallery id=103]