Register for the 2023 WHS Virtual Training Sessions
On behalf of Golf Ontario, we are very excited to open up registration for our 2023 WHS (World Handicap System) virtual training sessions. These sessions will break down the 7 rules of handicapping that will help you understand establishing a handicap index along with why we have the handicapping system. Time will be allocated for members and club committees to ask specific questions you may have. Each session will be 1.5 to 2 hours in length at a cost of $40+ HST per person.
Register for the seminar by scanning the QR code or clicking the link below:
Golf Ontario is excited to provide you with the most up-to-date information regarding the WHS to help continue to grow the game in Ontario.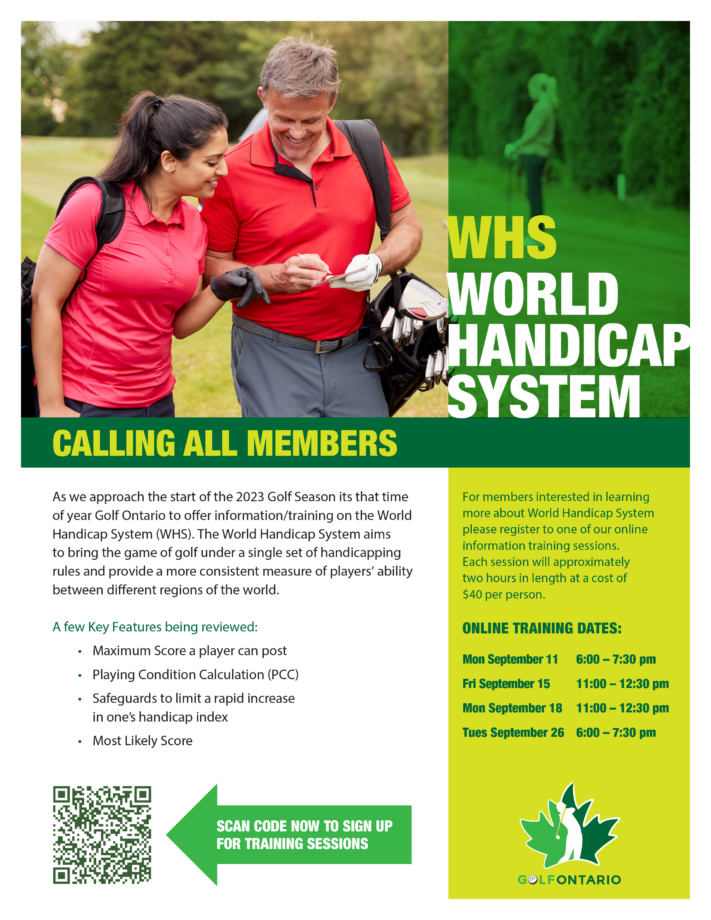 Golf Ontario has been involved in handicapping for over 100 years, and was one of the first associations in North America (first in Canada) to implement a computerized handicapping network for our members and clubs in the early 1990's. Since the introduction of this system, it is now housed by Golf Canada for the nation. The Golf Canada Score Centre is used in Ontario by over 300 clubs, including 100,000+ individual members who post over 2 million rounds annually to track a Handicap Index.

Much has been written about the Slope System in an attempt to demystify and simplify this objective method of handicapping. The Slope system allows a player's course handicap to be adjusted to the course and tees being played (for relative difficulty). This is accomplished by converting a player's Handicap Index to a course handicap specific to the course and tee to be played. The Slope of each tee/course is designed to bring greater parity when you play at other courses across the globe.

Increased Integrity In Handicapping

Handicapping is at the very core of equitable competition in amateur golf and few sports enable players to compete as equitably as golf. Handicapping is one of Golf Ontario's principal member service since the inception of our association back in 1923. All golfers who belong to the Golf Ontario/Golf Canada through one of our member clubs or the Public Player Program are eligible to receive an "Official" Handicap Index.

PLEASE NOTE:

The Handicap season for posting scores from Ontario golf courses is April 15 to October 31 (known as the "Active (Handicap) Season". All rounds played outside the Active Handicap season in Ontario are not be posted for Handicap purposes. For more information consult the Rules of Handicapping.

The idea for a new, unified system (World Handicap System: WHS) was conceived by the USGA and The R&A and developed following an extensive review of systems administered by six existing handicapping authorities across the globe – Golf Australia, the Council of National Golf Unions (CONGU) in Great Britain and Ireland, the European Golf Association (EGA), the South African Golf Association (SAGA), the Argentine Golf Association (AAG) and the United States Golf Association (USGA).

The new system (WHS) features the following:

Flexibility in formats of play, allowing both competitive and recreational rounds to count for handicap purposes and ensuring a golfer's handicap is more reflective of demonstrated ability.
A minimum number of scores needed to obtain a new handicap; a recommendation that the number of scores needed to obtain a new handicap be 54 holes from any combination of 18-hole and 9-hole rounds, but with some discretion available for handicapping authorities or National Associations to set a different minimum within their own jurisdiction.
A consistent handicap that is portable from course to course and country to country through worldwide use of the USGA Course and Slope Rating System, already successfully used in more than 80 countries.
An average-based calculation of a handicap, taken from the best eight out of the last 20 scores and factoring in memory of previous demonstrated ability for better responsiveness and control.
A calculation that considers the impact that abnormal course and weather conditions might have on a player's performance each day.
Daily handicap revisions, taking account of the course and weather conditions calculation.
A limit of Net Double Bogey on the maximum hole score (for handicapping purposes only).
A maximum handicap limit of 54.0, regardless of gender, to encourage more golfers to measure and track their performance to increase their enjoyment of the game.

Quantitative research was conducted in 15 countries around the world, through which 76 percent of the 52,000 respondents voiced their support for a World Handicap System (WHS), 22 percent were willing to consider its benefits, and only 2% were opposed. This was followed by a series of focus groups, in which more than 300 golf administrators and golfers from different regions around the world offered extensive feedback on the features of the proposed new system.

What is the World Handicap System (WHS)?

The World Handicap System (WHS) is a single set of Rules for Handicapping, enabling golfers of different abilities to play and compete on a fair and equal basis, no matter how or where they play. While the original six handicap systems have generally worked well locally, on a global basis, their different characteristics have resulted in inconsistency, with players of the same ability ending up with slightly different handicaps. A single WHS paved the way to consistency and portability across the world.

What does this mean for the sport?

The WHS initiative provided an opportunity for all existing handicapping authorities to collaborate; to consider the best features within each of the current systems and create a system which is modern and relevant for both the way the sport is played today around the world and how it may be developed in the future. The WHS is designed to be inclusive, easy to understand and implement, without sacrificing accuracy or integrity. Ultimately, this should help provide a solid foundation to the sport, for everyone from beginners to the experienced, from the recreational to the competitive, thereby supporting the development of the sport through increased participation. The administration and oversight of handicapping will continue to be the responsibility of each handicapping authority and National Association, thus helping to ensure the credibility of the system at the local level. These organizations will also have the discretion to tailor the system to fit their own golfing culture. For example, the WHS offers a broad range of formats that are acceptable for handicap purposes, with some form of corroboration, and handicapping authorities and National Associations will have discretion to select from that range to both support their local golfing culture as well as encouraging golfers to post as many scores as possible. Despite these responsibilities, moving from six different systems to one will almost certainly lead to other efficiencies, allowing National Associations more opportunity to focus their resources on golf development and strategic initiatives to support the sport within their jurisdiction. It also provides the opportunity to evaluate de-personal golfing data to help monitor the health of the game.

Why WHS, and why now?

Golf is a global sport, with a single set of playing Rules, a single set of equipment Rules and a single set of Rules of Amateur Status. The missing link is handicapping, and after significant engagement and collaboration with existing handicapping authorities and National Associations, it has been agreed that the time is right to bring the different handicap systems together.

World Handicap system – for golfers  VIDEO: https://youtu.be/ejE58KO-7Sg

Establishing A Handicap

Handicap Index: The measure of a player's demonstrated ability calculated against the Slope Rating of a golf course of standard playing difficulty

How many scores do you need to establish a Handicap?

Minimum Numbers of scores to get a Handicap is 54 holes made up of any combination of 9- or 18-hole rounds.
No time limit on completing the submission of these scores.
Strong recommendation that initial scores are submitted hole-by-hole to better assess the potential of the player.

For less than 20 scores,

For more than 20 scores,

An Average the lowest 8 of the most recent 20 score differentials, rounded to the nearest tenth.

Adjusted Gross Score

A player's gross score, including any penalty strokes, adjusted for when:

The player exceeds their maximum hole score,
A hole is not played, or
A hole is started but the player does not hole out.

Course Handicap

The number of handicap strokes a player receives, before handicap allowances, from a specific set of tees as determined by the Slope Rating and the difference between Course Rating and par.

Score Differential

The difference between a player's adjusted gross score and the Course Rating, reflecting the Slope Rating and the playing conditions calculation. It is the numerical value attributed to a score achieved on a golf course on a specific day that is posted into the player's scoring record. A Score Differential must be an 18-hole value or its calculated equivalent.

Playing Handicap

The Course Handicap adjusted for any handicap allowances or Terms of the Competition. It represents the actual number of strokes the player gives or receives for the round being played.

Net Double Bogey

A score equal to the par of a hole plus two strokes and adjusted for any handicap strokes applied on that hole. A net double bogey is a player's maximum hole score for handicap.

If you have any questions about Handicapping, please email handicapcr@gao.ca

Handicap Certification / Training

Golf Ontario conducts several Handicap Seminars each year (online and in person). Golf Canada requires member clubs to certify at least one Handicap Official, and in addition have a Handicap Committee in place at the club. The goal of the seminars is to educate and certify handicap officials and anyone interested in learning more about the game, handicapping and/or course rating. These seminars provide a more in-depth look into Handicapping and Course Rating and will give attendees a thorough knowledge of the World Handicap System (WHS).

The Handicap Seminars are beneficial for

Club Members,
Handicap Committee members,
Golf Professionals,
Superintendents,
General Managers

The seminar schedule is available each year in the Spring, online registration open at the same time.

Handicap Chairperson And Committee Responsibilities

As part of the Club Handicap License Agreement, Golf Canada requires that every club have a Handicap Committee in place, and that one person (ideally the Chairperson of the Committee) has successfully completed a Handicapping certification seminar.

Participation in the Handicapping Seminar ensures that the individual is educated about the World Handicap System and The Rules of Handicapping and can oversee and implement policies at their home club. Once an individual has successfully completed the seminar their certification is valid for 4 years (with the individual and club), after which they must re-certify.

Additional information about Handicapping can be found in our Handicap Resource Centre (link at the top of www.gao.ca).  Please feel free to browse the collection of articles, posters, and other documents to learn more about the World Handicap System.  If you have any further questions, please forward them to handicapcr@gao.ca

Why did Handicap Factor change to Handicap Index?
The USGA's current "Handicap Index" does not update each time a player's score is entered.  Since our current Canadian system updates for each score that is entered, we have used the term "Handicap Factor".  Under the WHS, updates will be daily in all countries, so the term "Handicap Index" will be used universally for everyone.
How do I return my score at home? From Abroad? Who is responsible for this?
Scores can be posted in several ways including through the Golf Canada website, the smartphone application, as well as the score posting kiosk that is set up at your home club. It is the golfer's responsibility to ensure that all eligible scores are being posted.
How does the new system work?
The World Handicap System will be averaged based, using the best 8 of the last 20 scores in your record.
How are handicaps initially allocated?
A player will need to return 54 holes worth of scores to be issued an initial Handicap Index.
How do I get a (World) Handicap Index?
Handicap Indexes are only available to those who are members of Golf Canada/Provincial Golf Association. If you are new to golf, we require 54 holes of scores to be returned to obtain a Handicap Index. If a returning player, we can calculate an initial Handicap Index from your existing (historical) record.
Once I have a handicap index what happens if I don't have 20 scores?
Following your first 54 holes worth of scores your handicap index will be allocated, then each time you add a new score it will be recalculated using an adjusted calculation to give you an Index equivalent to that of the Best 8 from 20 principle. Further information will be available in the Rules of Handicapping book.
How long do I have to submit my first 3 scores or 54 holes for an Initial Handicap Allocation? Is a mix of 9 and 18 holes permitted?
A new player has no time limit to return the first 54 holes worth of scores, but they won't hold a handicap index during this time.

Any combination of 9 or 18 holes.

How do I move clubs on the new system?
Notify your new club that you have kept a Handicap in the past. They will initiate a transfer process through Golf Canada Score Centre. This will retain all your scoring history and Handicap Index.
How long do my 20 scores last on the new system?
Scores will not expire. However, to maintain the most accurate handicap it is recommended that players continue to post all eligible scores.
Can my handicap lapse?
No, if you retain membership your Handicap Index will remain valid. If your membership does lapse, your account will no longer compute a Handicap Index. Scores are not deleted at this time. If your membership is reactivated, the Index will be computed again based off scores existing in the account.
What is a slope rating?
Slope rating is the difference between the course rating for a 'scratch' golfer and the course rating for a 'bogey' golfer multiplied by a factor. The Slope rating indicates the difficulty of a golf course for the 'bogey' golfer relative to the scratch player.
How do the daily course conditions affect the score?
The WHS includes a Playing Conditions Calculation (PCC), which will analyze how players have performed that day compared to their expected performance on that golf course. It will naturally include weather and course setup (reflected in the scores), and if expected results fall outside a tolerance level, an adjustment will apply to all scores played on that course for that day.
How is the PCC (Playing Conditions Calculation) calculated if only one player submits a score?
A Playing Conditions Calculation (PCC) can only be calculated if at least 8 scores from players with fully developed Handicap Indexes have been entered on that day.
What happens to the Playing Conditions Calculation (PCC) if the weather is significantly different in the morning to the afternoon?
Only one PCC will be calculated, so both sets of conditions will be included within the PCC calculation.
Scores should be entered as soon as possible. What would happen if a score is not returned quickly, is there a time limit?
Scores should be entered before the end of the day (approx. midnight (local time). Any scores not entered before that time will still be acceptable but will not be used as part of the PCC determination. However, the PCC determination for the day of play will still be applied when the score is posted.
Will there still be an active/inactive Handicap Season?
Yes, there is still a seasonal need for an Active Handicap Season. With other tools available within the system, each Provincial Association has the right to choose their seasonal dates to which scores played in that region are acceptable for Handicap purposes. Ontario: April 15-October 31.
What restrictions will a Committee be able to place on handicaps for club competitions?
As with any competition, the Committee can have a set of Conditions which may include a handicap limit.
Will your handicap change over 36-hole events?
In an event that is played over 1 day or 2 consecutive days, it is recommended that no change is made to a player's handicap during the event, for competition administration purposes.
What is the recommended minimum number of scores per year that should be submitted to maintain an accurate Handicap Index?
While there is no minimum number of required scores, the more scores submitted the more accurate the Index becomes in reflecting a player's potential ability.
Will we still need a Club Handicap Committee?
Yes: a club will still need to appoint a Handicap Committee to manage and maintain members handicaps e.g. carry out handicap reviews, adjust handicaps where necessary, and ensure that scores are being submitted.
What is a playing handicap and what does it consist of?
The playing handicap will be the player's course handicap (handicap index adjusted by course rating and slope rating), and any handicap allowances.
Who will we ask for support/Help?
Support for the WHS will be provided by your Provincial Golf Association (and Golf Canada) in partnership with each club (club administrator or Club Handicap Committee/Chair)

How do I sign up for a Handicap Seminar?

A:  A full schedule of Handicap Seminar dates is posted on the Golf Ontario website (https://www.gao.ca/about-handicap/).  You may sign up and register for the seminar that best fits your schedule. You will be required to enter some information during the registration process (name, address, email, club affiliation, etc.) as well as payment information.  Please note, that only Visa and MasterCard are accepted through the secure website.  If other payment arrangements need to be made, please contact handicapcr@gao.ca