Minesing, ON – On a perfect summer day at Vespra Hills Golf Club, Judith Kyrinis (Granite Golf Club) captured her fifth Ontario Senior Women's Championship title. Kyrinis joins elite company as a five-time winner of this championship.
Kyrinis stayed on top of the Championship Flight leaderboard from start to finish thanks to three fantastic rounds, which saw her make clutch putts at the right times. Kyrinis shot a 73 in the final round to clinch the victory, finishing three strokes ahead of both Terrill Samuel (Weston Golf & Country Club) and Mary Ann Hayward (St. Thomas Golf & Country Club).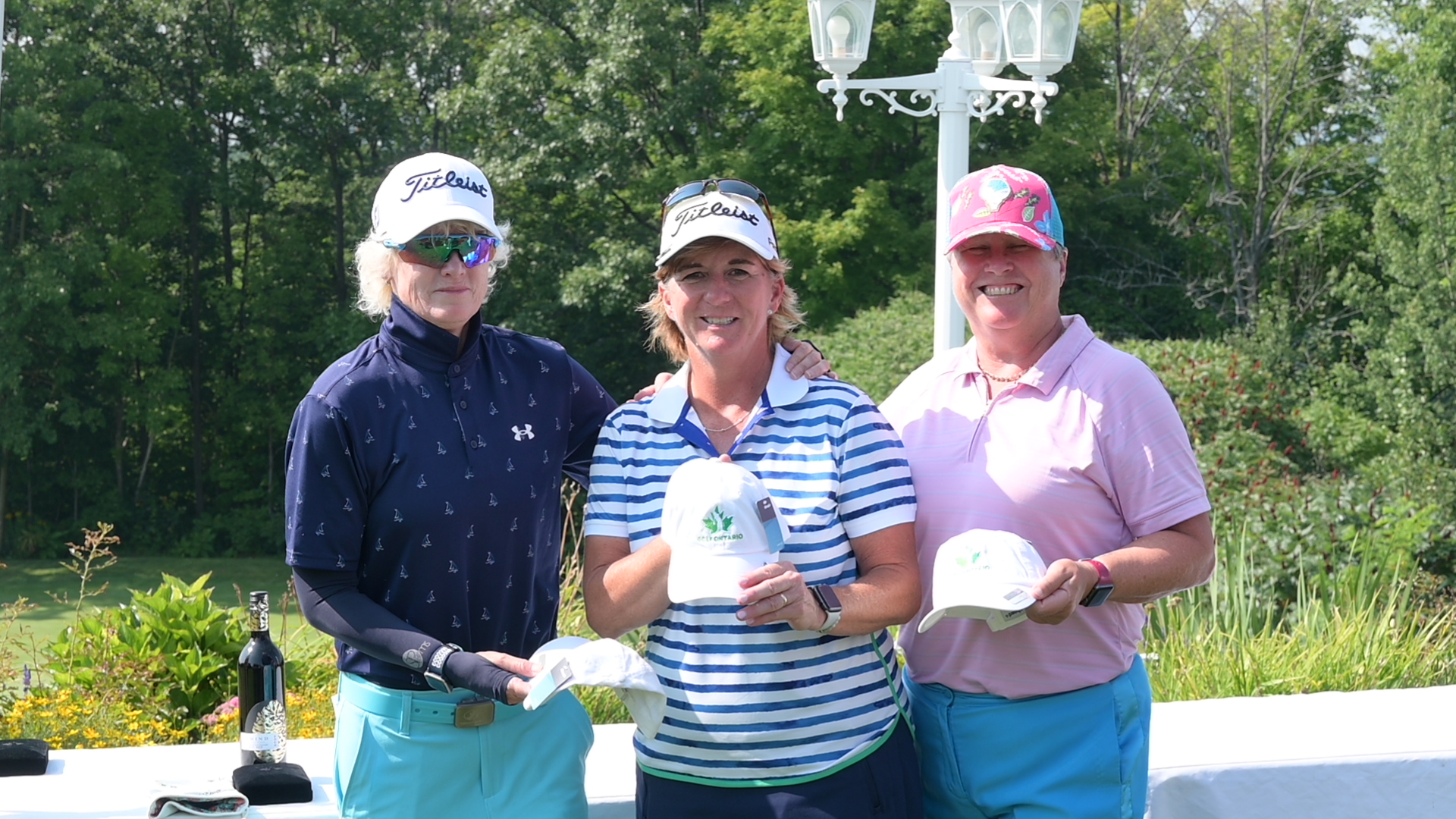 Despite a close second place finish, both Samuel and Hayward ended up going to a sudden death playoff hole to determine the winner of the 60 & Above division. In the end, Samuel defeated Hayward by one shot and will be going home with some hardware after all.
Congratulations to other winners of the day, which include Lorraine Elijah (Echo Valley Golf Club), who won the A Flight Gross division after shooting a 76 in the final round. Elijah finished a convincing eight strokes up on Susan Bell (Summit Golf & Country Club). Elijah also won the A Flight Net division by one stroke on Vespra Hills' own Ann Sullivan. Shelly Gianetto (Midland Golf & Country Club) finished as the winner of the 70 & Above division by one stroke ahead of Virginia L. Marshall (Westmont Golf & Country Club) and two strokes ahead of Roma Harris (Seaforth Golf Course).

Golf Ontario would like to thank all the players, staff, and volunteers for supporting the 2023 Ontario Senior Women's Championship. We would also like to thank Vespra Hills Golf Club for hosting this meaningful event, as well as the support from their staff and board of directors towards the players throughout these three days.
Lastly, a huge thank you to all Golf Ontario sponsors; Adidas, TaylorMade, Golf Talk Canada, Play Golf Myrtle Beach, Humber College, HUB International, BioSteel, Golf Genius, Modern Golf, Dormie, Durham Artificial Grass, Foresight Sports Canada, Baka, Nikon, Solo Golf, and Tournkey. We are grateful for your continued support.
About the Ontario Senior Women's Championship
The inaugural Ontario Senior Women's Championship was conducted in 1962 and has been contested annually, featuring the province's best female amateurs age 50 and over.
The event has had several notable past champions, including World, Canadian and Ontario Golf Hall of Fame member Marlene Stewart Streit, who captured the title six times. Also, Canadian and Ontario Golf Hall of Famer Gayle Borthwick, also picked up the trophy six times. Recent winners include Ivy Steinberg (2008 and 2009), Terrill Samuel (2011) as well as Golf Ontario Hall of Fame members Mary Ann Hayward (2010, 2012, 2013, 2014 and 2019) and 2017 USGA Senior Women's Amateur Champion Judith Kyrinis (2016, 2017, 2018).
About Golf Ontario
Golf Ontario is Ontario's Provincial Sport Organization focused on enhancing participation, elevating performance, and supporting the passion of golfers in Ontario. With over 100,000 individual members and 500 member clubs, Golf Ontario is one of the most significant golf associations in the world. From rating courses and keeping the integral rules of the game intact to growing the game at the grassroots level and hosting the best amateur tournaments in Canada, Golf Ontario is a passionate group dedicated to Shaping Lives Through Golf.
Instagram/Twitter/Facebook: @TheGolfOntario
For media coverage of the 2023 Ontario Senior Women's Championship, please visit the Golf Ontario Facebook page to view our photo albums.
For more information, please contact:
Greg Mitchell, Coordinator; Brand, Communications & Marketing Golf Ontario
Rob Watson, Tournament Director