In the final installment of our 2019 Golf Ontario Season Review, we recap some events still fresh in our minds with a look back at a sizzling September. Our concluding month saw some fantastic tournaments beginning with the Ontario Public Player Championship and ending with the coveted World Junior Girls Championship co-hosted with Golf Canada. Join us in finishing our 2019 season review with an exciting month of Golf in Ontario.
September Championships
Sunny and cool skies welcomed the players to Meadowbrook GC for the Ontario Public Amateur Championship that began September 4th. With no returning champion, the field looked to play well and hopefully take an early lead heading into the final day.
Day one proved to be a tight race with competitive scores throughout. One possible player everyone was watching early was 2018 runner up Jeremy Wilson (Bethesda Grange GC). He played well again but it was Daniel Racioppa (Mount Albert, ON) who ended grabbing the lead and attention after round one. Coming out hot, Racioppa would shoot even-par, the top score of the day.

Heading into day two, only a one-stroke difference separated first and second place, and by the end of the final round, only a few strokes separated the top five players. After another hard-fought day, Wilson, last year's runner up, came out on top. Wilson played one of the best rounds of his career carding four birdies and only two bogeys through 18 for a total score of +1 for the tournament. Showing maturity and the ability to be consistent, Wilson continued his success despite some pressure from some other players trailing and finished the round with a tournament low -2 to secure the win.
"It's an awesome feeling to be able to come back and win it," said Wilson. "Second place last year was still a success in my books but definitely the end goal was to win it all." When asked about the pressures of being a finalist last year and to continue to have success, Wilson pointed out that there's always pressure to perform.
The original write-up can be found here, visit the tournament page here
All photos from the event can be found here
From there we headed to the Ontario Senior Men's Better-Ball Championship that played out on September 19th from Brampton GC. The field of 124 went off on a shotgun start to see which duo would leave as champions, and hoist the 'Oakdale Trophy'. Being the only round of the tournament, the stakes were high and the players came out ready to play.
At the beginning of the day, all eyes were on the reigning champions Mark Bennett (Bayview G&CC) and Jim Briggs (Cardinal Lakes GC). The duo came into the tournament the early favorites as they arrived with high hopes of clinching their second title in two years.
The tournament was highly competitive seeing five groups all within two strokes of the top spot, but it was home course twosome Bruno Ardito and Gary Parker (Brampton GC) who would eventually steal the show. After 18, the duo was tied with the talented team of Dan Partland (The Summit G&CC) and Christopher Kertsos (York Downs G&CC). The two teams took to the track for a playoff and remained neck and neck the entire way through with neither duo pulling ahead. It wasn't until the third playoff hole where Ardito lined up and dropped a 30-foot putt to clinch the title.
When given the chance to speak about the tournament winning shot, Ardito simply praised his partner. "If it weren't for my red hot partner, this wouldn't have been possible," he said. "It's a great feeling winning at our home course, and we hope everyone had as much fun as we did."
The original write-up can be found here, visit the tournament page here
All photos from the event can be found here
Summer like conditions welcomed the 84 players to Toronto Ladies GC for the 66th annual Ontario Women's Four-Ball Championship on September 23rd. With hot weather came hot play, and the day proved to be competitive just like in years past. After 18 holes however, it was Delaney Howson (Public Player), former Team Ontario coach, and Golf Ontario's very own, Jessie Mercer (Black Bear Ridge GC) who came out on top.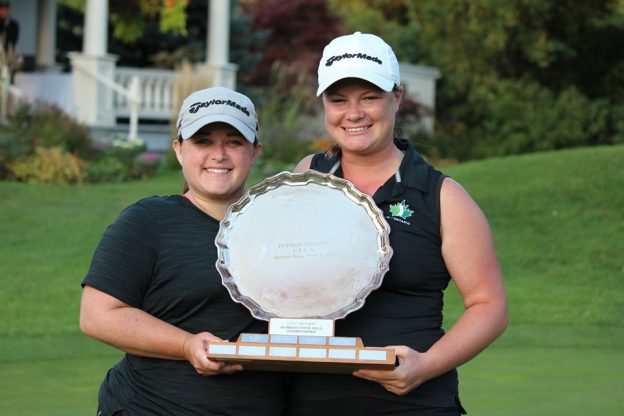 "It was a great day for us," said Howson. "We got off to a bit of a slow start but found some momentum on the back nine. We started to play off each other's strengths and found a good rhythm." When asked about their stretch of birdies in the second half of their round, they credited it to some lucky shots. "I chipped in on 12, Delaney stuck one tight on the next and then made a six-footer on 14 to cap it off," said Mercer. "It was a little lucky but we definitely were on a roll."
The duo finished the tournament -3 (69), and left as champions. Trailing in second was a two-way tie between the group of Kristy McLaughlin (Mad River), and Joanne River (Weston G&CC), and the group of Susan Postian (Sunningdale GC) and Jane Hedges-McKinnon. The two teams finished the day at even-par (72), only three strokes behind the leaders.
As for the Low Net portion of the tournament, it was home course favourites Mavis Knight and Denise Tobin (Ladies GC of Toronto) who came out on top after a six-hole playoff against the talented duo of Penny Robinson and Mary Contardi (The CC West). Playing an extra hour and a half of golf, both teams showed incredible resilience and devotion, proving that they were going to battle it out until the very end.
The original write-up can be found here, visit the tournament page here
All photos from the event can be found here
Our 2019 golf season would end with the world's best young female golfers taking over Markham's Angus Glen Golf Club from September 24-27 as the 2019 World Junior Girls Championship got underway.
Round one was clearly a tough affair since only three competitors managed to navigate the challenging South Course under par: Thailand's Yosita Khawnuna, Yin Xiaowen of China and Ye Won Lee of Korea, who all share the individual lead at -1 after rounds of 71.
It was an equally tight contest in the team competition as the top three squads are only separated by two shots, with Korea paving the way on an aggregate score of minus -1 (143), followed closely by Thailand at even par (144) and England in third at plus +1 (145).
Teeing it up from the 10th hole during round two in a split-tee start this morning, Thailand's Atthaya Thitikul, the defending champion from last year's WJGC in Ottawa, had a relatively inauspicious start with four consecutive pars, before finding a new gear following a birdie on the par-5 14th hole. And she was all business from there, collecting seven more birdies and an eagle against only one bogey the rest of the way. Thitikul returned to the clubhouse with a three-stroke lead over her nearest rivals. Hannah Darling of Scotland and last year's individual silver medallist, Alessia Nobilio of Italy, were tied for second place at 5-under for the tournament.
In her post-round interview, the personable Thitikul was frank in her assessment: "You know, I give all the credit to my putter, it worked really good today. I just had fun in the round and that's good. And the results come."
In the team competition, the Thai squad managed to create a little space atop of what was a very crowded leaderboard following the first round. Propelled by Thitikul's stellar outing, Thailand shaved 7 strokes from par on the Wednesday for an aggregate total of 281 (-7), one shot better than Korea in second place at 282 (-6) and Chinese Taipei, who jump up the rankings to No. 3 with a total team score of 284. Last year's champion team Italy is close behind in fourth spot at minus -1.
On day three after a 3-hour thunderstorm delay, the Koreans rallied to erase the four-stroke lead that Thailand held before the stoppage and took a one-shot advantage in the team competition.
Korea would sit in first with an aggregate score of 422 (-10), just one shot ahead of Thailand at No. 2. Italy also made the most of moving day, as the 2018 team champions in Ottawa posted a score of minus -1 to climb to third position (-2). England and Denmark also moved up a notch, to fourth and fifth respectively.
In the individual competition, the top of the leader board was occupied by seven competitors that remain under par this week and it was still led by Atthaya Thitikul of Thailand.
Ye Won Lee of Korea (-7), who fired a four-under 68 for the lowest round of the day, climbed to within two shots of Thitikul, who holds on to the lead with a tournament-best score of -9. Scotland's Hannah Darling, whose hole-in-one yesterday helped her close in on the leaders, sits third at -6. Alessia Nobilio of Italy drops back to 4th place at -5, after shooting even par today.
After the round, Ye Won Lee explained: "I felt really good with my swing but I think that I could have done even better than I did today because my putter was a little shaky."
Thitikul's poise and talent were evident in the final round, where she would claim her second consecutive World Junior Girls Championship title by two strokes over Ye Won Lee of the Republic of Korea.
In the team competition, it was the Republic of Korea that claimed the gold medal, their second World Junior Girls title after winning it in 2015 at The Marshes GC of Ottawa. After rallying to take the lead following Thursday's weather delay, the Korean team never looked back. They registered an aggregate score of 3-under (141) in the final round to take the laurels.  After claiming bronze at Camelot Golf Club in 2018, Thailand upgraded its 2019 haul by winning silver, while last year's champions Italy finishing third to earn the bronze medal.
"It's very, very nice to win. I'm so happy now. But I'm a little disappointed that I couldn't catch the (girl in) first place. But only ten percent disappointed (laughs)," said team gold and individual silver medalist Ye Won Lee.
The 2019 gold is Korea's fourth World Junior Girls Championship medal in only five participations in the event, a tournament record.
In the individual contest, Thitikul managed to keep her playing partners at bay on the front nine, taking a stroke back from the silver medallist, Republic of Korea's Ye Won Lee, thanks to three birdies against only one bogey. Despite committing two more bogeys on the back nine and briefly finding herself only one stroke up, Thitikul, who fired a final round of 70 (-2), scored a superb eagle on the par-5 16th hole which Ye Won Lee couldn't match.
When asked how important that shot was to her victory, Thitikul declared that "It helped me a lot, you know. When I putt it, in mind I was like 'Yes! I will get this.' It made me feel more confident when walking to the 18th hole."

Italy's Alessia Nobilio, an individual silver medallist in both 2017 and 2018, shot 71 in the final round to finish the tournament at 6-under, in third place. She is now the World Junior Girls most decorated competitor in tournament history with three individual and two team medals.
As the organizing federation, Canada delegated two teams to participate in the Championship.
Canada 1, consisting of Brooke Rivers (Brampton, Ont.), Euna Han (Coquitlam, B.C.) and Emily Zhu (Richmond Hill, Ont.) had a strong finish to the tourney, posting their first negative team score of the week (-2) which allowed them to climb to 7th in a tie with Switzerland. Canada 2, composed of Lauren Kim and Angela Arora of Surrey, B.C., with Ellie Szeryk (London, Ont.), scored plus +7 and dropped to 19th, ahead of Ireland.
The original write-up can be found here, visit the tournament page here
All photos from the event can be found here
A fitting end to an incredible 2019 golf season, the closing ceremonies of the World Junior Girls Championship wrapped up with so many distinguished guests and company on-hand. With the final drive, putt, thrill, chill, acceptance speech and post-round interview in the books, the sun would finally set on the day and on an incredible season.
Golf Ontario would once again like to thank you all our host courses for such fantastic hospitality, our players for all the excitement, our different departments and staff for their tireless efforts and massive thanks to our volunteers and officials for all their hard work, making everything possible.
ABOUT GOLF ONTARIO
Golf Ontario is Ontario's Provincial Sport Organization focused on enhancing participation, elevating performance and supporting the passion of golfers in Ontario. With over 100,000 individual members and 450 member clubs, Golf Ontario is one of the largest golf associations in the world. From rating courses and keeping the integral rules of the game intact, to growing the game at the grassroots level and hosting the best amateur tournaments in Canada, Golf Ontario is a passionate group dedicated to shaping lives through golf.