During our recent Annual Volunteer Appreciation Days across Ontario, Golf Ontario honoured the tireless efforts of our volunteers and proudly announced the recipients of our prestigious Volunteer of the Year and Dick Grimm Distinguished Service Award for 2023. These awards recognize individuals whose unwavering dedication has left a meaningful mark on the sport in Ontario, showcasing their commitment to making a difference and enabling Golf Ontario to 'Shape Lives Through Golf'.
Dick Grimm Distinguished Service Award
Anne Edgar Dodds-Hebron: Rules Official Extraordinaire
Anne Edgar Dodds-Hebron, a steadfast figure in the Ontario golf community, has been awarded the Dick Grimm Distinguished Service Award, a testament to her decades of selfless service. Her impressive achievements span numerous facets of the golfing world.
Anne's illustrious career encompasses an array of accomplishments. As a competitive golfer, she clinched numerous championships, establishing herself as a formidable force on the fairways. Beyond her prowess on the course, Anne held director-level positions at both the provincial and national levels. Her invaluable contributions to rules education have empowered countless individuals, while her role as a National and provincial Rules Referee for three decades has ensured the smooth operation of local, provincial, and national professional and amateur competitions.
Even in the face of recent health challenges, Anne has remained unwavering in her support of golf in Ontario, serving as a mentor and embodying her passion for the sport. Her sustained dedication, engagement, and contributions to the game and the Rules of Golf make her a deserving recipient of the Dick Grimm Distinguished Service Award.

Dick Grimm Distinguished Service Award Background
Named after Richard H. Grimm, affectionately known as "Mr. Canadian Open" for his tireless service from 1965 to 1993, the Dick Grimm Distinguished Service Award aims to recognize individuals who exemplify the principles of integrity, dignity, and commitment central to the volunteer experience in golf. This prestigious honour acknowledges those who have demonstrated exceptional leadership and involvement in the growth of amateur golf in Ontario, upholding the values and mission of Golf Ontario.
Volunteer of the Year (2 Recipients)
Ian Nordheimer: The Rules Official Extraordinaire
Ian Nordheimer has been awarded the title of Volunteer of the Year for his remarkable dedication to Golf Ontario over the past five years. In this relatively short period, Ian has become a trusted authority on the rules of golf, earning the respect of his peers. His approachability, willingness to assist fellow volunteers and active participation in tournaments throughout the province exemplify his commitment to Golf Ontario's vision and values.
Ian's meticulous preparation and punctuality, combined with his welcoming demeanour, make him a standout ambassador for Golf and Golf Ontario. His dedication to educating others on the intricacies of the sport, along with his respectful and collaborative approach, set a shining example for all.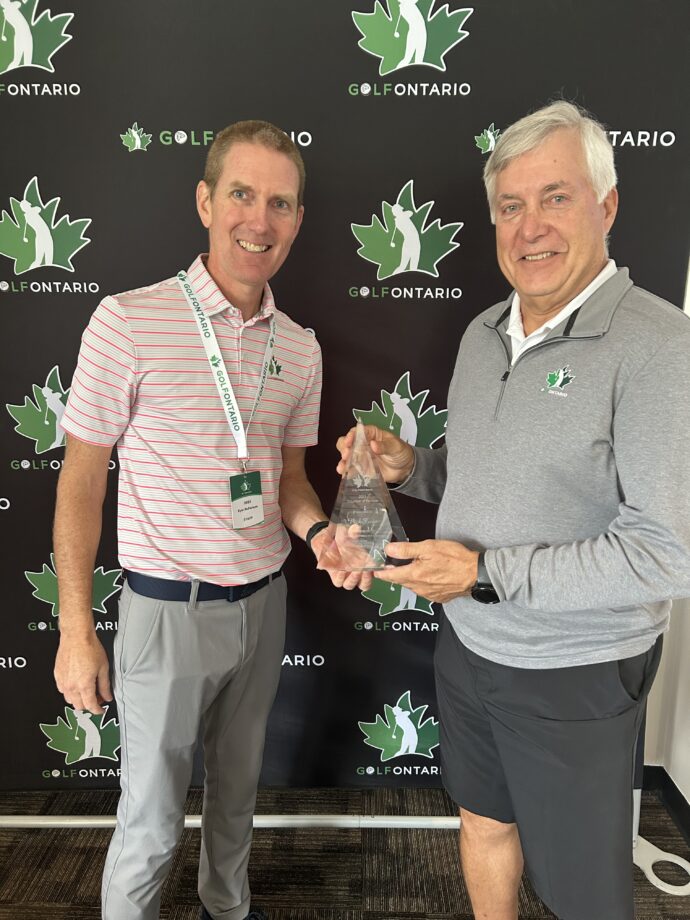 Rick Corin: The Course Rater Extraordinaire
Rick Corin, with a decade of dedicated service since 2012, has earned the title of Volunteer of the Year for his exceptional contributions as a Course Rater and Team Leader. Rick consistently goes above and beyond, willingly taking on additional courses and building strong relationships with Ontario facilities. His adaptability and willingness to accommodate facilities' needs have not gone unnoticed.
As a Team Leader in London, Rick plays a crucial role in leading his team of volunteers, ensuring smooth collaboration and optimal results.
Volunteer of the Year Background
The Golf Ontario Provincial Volunteer of the Year Award, established in 2004, celebrates individuals who have made a significant impact on the growth and development of golf while preserving the sport's traditions. To be eligible for this award, recipients must have volunteered for Golf Ontario for more than three consecutive years, made substantial contributions to promoting the organization, and not have received the award in the past three years.
In 2023, Golf Ontario proudly acknowledges these outstanding volunteers, whose unwavering commitment and contributions continue to enrich the sport of golf in Ontario. Their dedication and passion serve as an inspiration to all, reminding us of the power of volunteers in advancing the game we love.
About Golf Ontario
Golf Ontario is Ontario's Provincial sports organization focused on enhancing participation, elevating performance, and supporting the passion of golfers in Ontario. With over 100,000 individual members and 500 member clubs, Golf Ontario is one of the largest golf associations in the world. From rating courses and keeping the integral rules of the game intact to growing the game at the grassroots level and hosting the best amateur tournaments in Canada, Golf Ontario is a passionate group dedicated to Shaping Lives Through Golf.
Instagram/Twitter/Facebook: @TheGolfOntario
To stay informed on Golf Ontario's championship play, events, and additional updates, follow us on Instagram and Twitter, and like us on Facebook.