As 2020 comes to a close, it is time to reflect back on the year that was. It goes without saying that 2020 was a year like no other. And while we all know it came with significant challenges for everyone, we also know that there were diamonds in the rough in 2020 and golf was one of those bright spots. Quite simply … golf was an important release, both physically and mentally for both existing golfers, and equally importantly, new players to the game. From the second golf courses were allowed to open back on May 16, protocols were put in place that made golf courses into one of the safest places to be throughout this pandemic, and these safety measures allowed people to enjoy this great game like never before. With this in mind, today is an appropriate day to look back and celebrate some of the milestones from 2020 in Ontario golf. Thanks to each and every golfer, staff member, coach, professional, volunteer, owner/operator, and all others for your contributions to the 'year of golf'
January
The Mackenzie Tour – PGA TOUR Canada and Golf Ontario reached a six-year agreement in partnership with Woodington Lakes Golf Club to host and conduct the Ontario Open. This first tournament, an official tournament on the Tour's 2020 schedule, was set for Tottenham, Ontario, on August 27-30.

The Ontario Golf Hall of Fame Class of 2020 was announced, but has been postponed due to COVID-19. The newest acclaimed member, Danny Mijovic, would enter the Professional Golfer category after 35 plus years as a golf professional. Tim O'Connor also received the Lorne Rubenstein Media Award, which is presented annually to accredited members of the Ontario media for "major contributions to golf". We look forward to celebrating these two individuals in 2021.
February
Golf Ontario celebrated and recognized the 2019 Golf Ontario Order of Merit player winners and Volunteer Award winners. The Female Player of the year was awarded to Emily Zhu, while the Male Player of the year went to Garrett Rank. Click here, for other 2019 Golf Ontario Order of Merit winners.
Playing a critical role in the Golf Ontario organization, Golf Ontario recognized the following Volunteer Award Winners: 2019 Volunteer of the Year: Joyce McCrae. Distinguished Service Award winners: Margaret Grieve and Gilles Hurtubise. Honorary Life Director Award: Kathy Pilkey, Ian Murray, and Chris Osborne.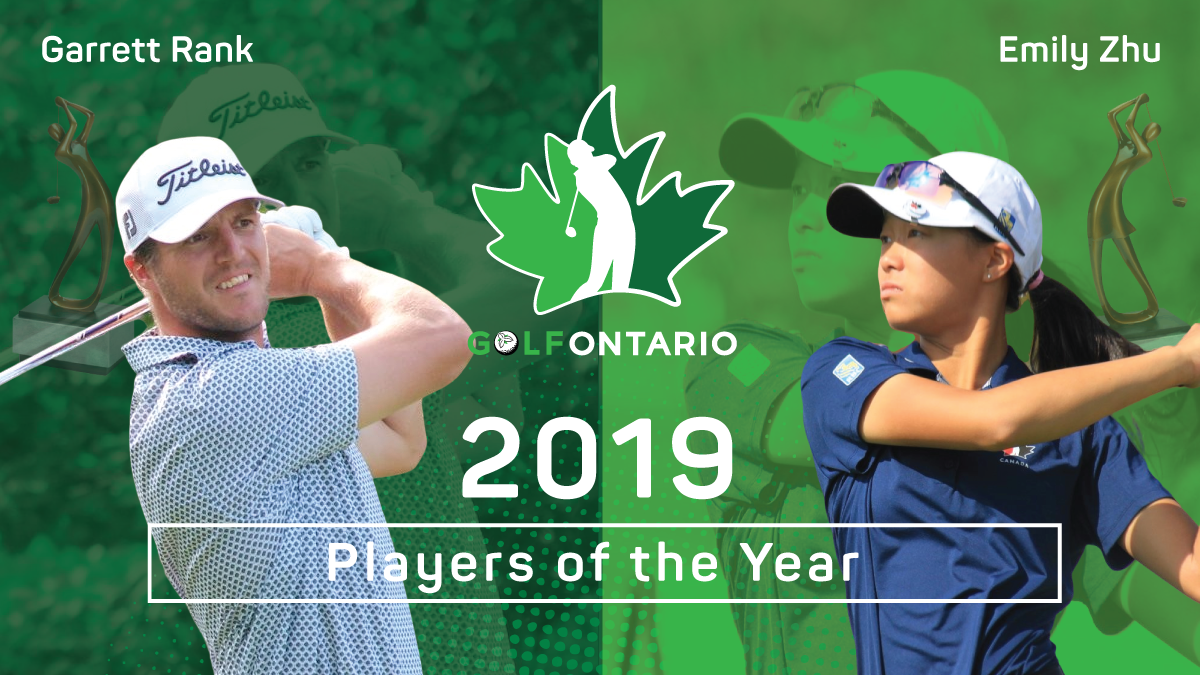 Two new partners joined the Golf Ontario team, to help bring more value to the Association and its' members. Modern Golf joined as the Official Club Fitting and Repair partner of Golf Ontario, and Dormie Workshop joined as the Official Custom Headcover Provider of Golf Ontario.
March
As the first wave of the COVID-19 pandemic enveloped not only Canada but the world, the government ordered the shutdown of non-essential businesses. This shutdown would force Golf Ontario to begin planning for an adaptation of the 2020 Championship schedule, as we moved to remote-working.
Mike Kelly, Executive Director of Golf Ontario, addressed players, members, and stakeholders with a message, as the COVID-19 challenge continued to evolve rapidly.
April
National Volunteer Week 2020: April 19 to 25. Golf Ontario gave recognition to the volunteers who have made outstanding contributions to the game of golf and showed appreciation to all who have been an essential part of our organization.
May
The Mackenzie Tour – PGA TOUR Canada announced that the 2020 season had been cancelled due to the ongoing COVID-19 public health crisis. The Ontario Open, which was originally scheduled for August 27-30, was postponed until 2021.
Due to the coronavirus pandemic, most golf courses across Canada did not open on schedule this spring. Ontario Golf Courses were permitted to open May 16, with stringent anti-COVID safeguards set in place.
June
As public health concerns due to the COVID-19 global pandemic continue, Golf Canada in partnership with Golf Ontario cancelled the 2020 World Junior Girls Championship. Postponed till 2021, the event was originally schedule for September 28 to October 3 at Angus Glen Golf Club in Markham, Ontario.
Adjusting the 2020 Championship schedule to fit within the restrictions of COVID-19, Golf Ontario released the new 2020 Championship schedule. With additional time needed to ensure that Golf Ontario Championships were staged in the most safe and responsible manner possible given the ongoing COVID-19 crisis, Golf Ontario had to make significant revisions to the 2020 schedule of championships. While able to maintain a strong slate of the most important championships, the new schedule consisted of nine events.
As a result of a highly successful pilot program launched in Alberta, Youth on Course announced its expansion with Golf Ontario and Golf Canada. Youth on Course is a non-profit organization providing young people with access to opportunities through subsidized golf, college scholarships, paid internships, and a caddie program.
July
Golf Ontario announced the addition of Durham Artificial Grass to their family of partners, to help continue to bring more value to the Association and its' members. Durham Artificial Grass is a provider of high-quality home practice installations, including simulators and putting greens.
The first championship of the season, the Ontario Junior (U19) Boys' Championship, took place at Saugeen Golf Club. With an impressive finish in his fourth and final round, Nolan Piazza (Cherry Hill Club) took home the Ontario Junior (U19) Boys' Championship title for the second time in three years.
Winning the Ontario Juvenile (U17) Boys' Championship title was Andreas Diogenous (Whistle Bear GC).
August
The Ontario Women's Amateur and Mid-Amateur Championship at Dalewood Golf Club teed off a busy month of championships. With the third and final round coming to an end for the Ontario Women's Mid-Amateur Championship, Public Player Nonie Marler (Marine Drive GC) took home the prestigious title with three near flawless rounds.
In the final round of the Ontario Women's Amateur Championship, Michigan State University golfer, Sydney Naro (Public Player), brought home the crown with an even par round to end the championship at even overall (285).
Otter Creek Golf Club hosted the Ontario Men's Amateur Championship. Clawing his way to victory down the final stretch was Golf Canada Amateur Squad Member, Cougar Collins, with an even par round (72) to finish the Championship at two-under.
Team Ontario member, Katie Cranston, went home with very full hands following her impressive Ontario Juvenile (U17) and Junior (U19) Girls' Championship win at Shelburne Golf and Country Club.
September
Golf Ontario enjoyed a day of golf at The Nest at Friday Harbour to help support the Golf Canada Foundation COVID Relief Fund. This fund was to help golf courses and their employees and golfers stay safe while also thanking front-line workers through encouraging additional play and welcoming juniors to further experience the game.
Cambridge Golf Club hosted the Ontario Bantam (U15) Boys' and Girls' Championship, while Golf Ontario also recognized a winner for the Ontario Peewee (U13) Boys' and Girls' Championship. Holding onto her impressive lead to take home the 2020 Ontario Bantam (U15) Girls' Championship title was Kelly Zhao (Station Creek GC – North).
Making massive moves on the course in the final round, Cale Marontate (Kingsville G&CC) secured the title for the 2020 Ontario Bantam (U15) Boys' Championship.
In recognition of the Ontario Peewee (U13) Boys' Championship, Jager Pain (Public Player) took home the gold, while Michelle Xing (National Pines GC) was awarded the gold (149) for the Ontario Peewee (U13) Girls' Championship.
As summer slowly slipped away, the Ontario Public Amateur Championship was hosted by Meadowbrook Golf Club. The overall winner and winner of the A flight (gross) competition was Aurora's Kevin Holloway.
The B Flight and the first net score competition finished in regulation with a two-way tie between Troy Darbyson and Ken Brace, both of Brooklin, requiring a three-hole playoff. Darbyson had the low round through both rounds, shooting a 68 in round one to help build his early lead and hang on to reach the playoff holes, from which he would emerge victorious.
The C flight Championship also ended in regulation with a two-way tie for the lead between Zachary Peters and Andrew Garron. After a closely contested playoff, Hamilton's Peters emerged as the winner of the C flight.
The stunning Taboo Muskoka Resort and Golf hosted the 2020 Ontario Senior Men's and Women's Championship. Having a fantastic season after finishing second place in the Ontario Women's Mid-Amateur Championship, Terrill Samuel (Weston G&CC) captured her second Ontario Senior Women's Championship title.
Securing the Ontario Senior Men's Championship title, Dave Bunker (Cherry Hill Club) completed the final round two strokes ahead of silver medalist Ashley Chinner (Coppinwood).
As championship season continued, the 2020 Ontario Men's Mid-Amateur Championship was hosted at the Loyalist Country Club. Holding his own and leading the way for the entirety of the three days, Ryan Tsang (Cedar Brae GC) seized his first Golf Ontario Championship title, as the winner of the 2020 Ontario Men's Mid-Amateur Championship.
After a very successful launch in 2019, the Ontario Disability Golf Championship would return in 2020 at the beautiful Woodington Lakes Golf Club. As part of this year's event, Special Olympics Ontario was pleased to announce a partnership with Woodington Lake Golf Club to help support and promote the event. Special Olympics Ontario would provide volunteer and coach training, as well as assistance with the recruitment of athletes and volunteers to help stage this world class event.
Defending the Men's 2020 Ontario Disability Championship title, for the second year in a row, was Kurtis Barkley (Cedar Glen GC) after an impressive showing of 145 over two rounds.
On the Women's side, also taking home the 2020 Ontario Disability Championship title for a second year in a row, was Natasha Stasiuk (Heron Point Golf Links) (171).
Golf Ontario also gave out their annual Scholarship Awards in September to some lucky and deserving recipients. Winning of our largest scholarship this year, Aidan Hussey (Barcovan GC) was awarded the Craig Revell scholarship. Read more, here.
October
On October 6th, twenty golf lovers took on the formidable challenge to walk one-hundred holes of golf in one day to raise money and awareness for Youth on Course. From sunrise to sunset, participants from Golf Ontario, Golf Canada, TaylorMade, adidas, and 94.9 The Rock walked and played one-hundred holes of golf with proceeds going to support the great new Youth on Course program.
Hosted at Black Bear Ridge Golf Course, the 1st Annual Golf Ontario Provincial Super Camp took place over Thanksgiving weekend in Belleville, Ontario. The first two days of testing included the Golf Canada National Testing Protocols, a Session with Sport Psychologist Dr. Charles Fitzsimmons, and an Interactive Rules Session with Jim Davidson of the OVGA.
Holding her position on the leaderboard for the Junior Girls', Alessandra Nagayo (Don Valley GC) took home the championship title with a total of one over par (145) and a nine-stroke lead over the silver medalist.
Advancing on the Junior Boys' leaderboard to win the gold medal, Ashton McCulloch (Cataraqui G&CC) secured the title with an eagle on seven and one under par on the day (147).
Golf Ontario gave back to frontline workers in our championship communities, through the 2020 championship season registration process. As part of our registration process, we normally include the opportunity for golfers to donate to a cause. Historically, these donations have gone to support junior golf in Ontario. During registration for the 2020 championship season, we offered golfers the opportunity to donate to Frontline Workers. All funds generated through these donations would then be divided up and given back equally to a local hospital in each of our championship communities. Read more, here.
November
On Tuesday October 20th, Golf Ontario hosted the annual Volunteer Appreciation Day at the beautiful Wooden Sticks Golf Course. With COVID-19 continuing to affect how we celebrate with each other, Golf Ontario hosted their 2020 Volunteer Recognition Day online, recognizing a few shinning individuals who have gone above and beyond their volunteer commitments. This year's very deserving 2020 award recipients were as follows: 2020 Volunteer of the Year, Lee Griffin. Honorary Life Director, John Swift. Dick Grimm Distinguished Award, Jim Bristow. The Paul "Fitz" Fitzgerald Award, Darrell Peters.
Team Ontario welcomed many new faces to the 2021 Team Ontario squad, which features many of the best young golfers in the province. Featuring eighteen members as part of the soon to be launched Junior Golf Pathway, seven members returned from the 2020 team and would be joined by eleven fresh faces.
December
Golf Ontario announced the launch of the upcoming 2021 Provincial level Rules of Golf Webinar Series. Beginning in the second week in January, Golf Ontario will be offering a 10-week webinar series on the Provincial Level Rules of Golf as part of the Golf Ontario Rules Ready program. Instructed by nationally certified Golf Canada Referees, the webinar series is aimed at furthering the participant's knowledge of the Rules of Golf and will take an in-depth look at the concepts, procedures and outcomes that are an integral part of today's game.
The annual 12 Days of Golf took place from December 7 to 19, with all proceeds this year going to support junior programs across Ontario. This included supporting the launch of First Tee in 2021, an exciting new program enabling youth to build the strength of character that empowers them through a lifetime of new challenges.
Golf Ontario announced the upcoming World Handicap System (WHS) webinar schedule. Beginning February, Golf Ontario will be offering five WHS certification sessions virtually. Instructed by the Handicap and Course Rating department, the webinar will take an in-depth look at all seven Rules of Handicapping as well as supporting appendix, that are an integral part of the game being inclusive and accessible to all golfers.
On a more positive note, Golf Ontario was pleased to unveil the 2021 Championship schedule. With the health and safety of all involved continuing to be of paramount importance as COVID-19 protocols continue to adjust, the 2021 schedule will feature 22 provincial championships hosted at member clubs across Ontario.
From all of us at Golf Ontario, we are looking forward to more golf and championships in 2021!
About Golf Ontario
Golf Ontario is Ontario's Provincial Sport Organization focused on enhancing participation, elevating performance, and supporting the passion of golfers in Ontario. With over 100,000 individual members and 450 member clubs, Golf Ontario is one of the largest golf associations in the world.  From rating courses and keeping the integral rules of the game intact, to growing the game at the grassroots level and getting the game of golf into our school systems, to keeping the Ontario golf community aware of all relevant issues and hosting the best amateur tournaments in Canada, Golf Ontario is a passionate group dedicated to making golf better for everyone in Ontario. We share a love and passion for golf, while preserving its past, fostering its future, and championing golf's best interests for everyone who enjoys the sport.
Instagram/Twitter/Facebook: @TheGolfOntario
To stay informed on Golf Ontario's championship play, events, and additional updates, make sure to follow us on Instagram and Twitter, and like us on Facebook. Make sure to visit our website for further information.
For more information please contact:
Brianna Christopher, Assistant, Marketing and Communications.
Golf Ontario
BChristopher@gao.ca
Peter MacKellar, Manager, Marketing and Communications.
Golf Ontario
PMacKellar@gao.ca