A night of sincere thanks and gratitude made up our second of two Ontario Golf Hall of Fame induction ceremonies this year, with tonight's from Wooden Sticks Golf Club in Uxbridge, Ontario, where the hall resides. Catching up on winners due to the pandemic, Golf Ontario proudly announced the four award recipients this evening: one Hall of Fame inductee and three Lorne Rubenstein Media Award winners.
Rod Black, an on-air sports analyst for decades, emceed the festivities, which included a chilly round of golf, the 'Golf Ontario's Partner Cup,' food and beverages, and finally, the wonderful ceremony. He summed the proceedings up by explaining how thankful we are to play the game and enjoy it immensely, like the thanks after a round, thanks to our playing partners and to the very game itself. All award winners tonight expressed that same message of thanks, evident in their speeches and in describing what the game has given them through the years.
Dave Gourlay
Our lone Hall of Fame inductee this evening, a post-humous induction, was Dave Gourlay, born and raised in Scotland. He joined the RAF in 1940 and spent part of his training in Canada. He immigrated to Canada in 1948, became involved in the golf industry at the Kapuskasing Golf Club, became Head Superintendent of Summit Golf Club in 1960 and then moved to The Thornhill Club in 1963, where he was Head Superintendent until his retirement in 1992.
Dave devoted himself to improving his profession. He was President of the Ontario Golf Superintendents Association (OGSA) in 1968, a founding member of the Canadian Golf Superintendents Association (CGSA) and its President in 1973. He co-managed with Bob Heron the association's magazine, GreenMaster, from 1973-1981. Together with Bob Heron, Jim Wyllie and Sid Puddicombe, they formed the Canadian TurfGrass Conference and Show. For his work, he received Distinguished Service Awards from the OGSA, CSGA and the Golf Course Superintendents Association of America.
Dave was a much sought-after speaker at national and international conferences on turf management and golf course maintenance and a great mentor to many. His children accepted his award, who mentioned he loved chasing a little white ball until his final days.
Three esteemed members of the Ontario golf media were also honoured with the Lorne Rubenstein Media Award, Tim O'Connor, Ted McIntyre and Scott MacLeod.

The Lorne Rubenstein Award is presented annually to an individual associated with a recognized Ontario media organization for "major contributions to golf in Ontario." Lorne Rubenstein, one of Canada's best golf journalists and authors, is a member of the Ontario and Canadian Golf Halls of Fame and received the Canadian Sports Media Lifetime Achievement Award in 2009. Each award recipient (not to be confused with an inductee) is presented with an award and is recognized on the Lorne Rubenstein Award plaque in the Ontario Golf Hall of Fame.
Tim O'Connor
Before Tim O'Connor began writing about our obsession with golf, he wrote about our fascination with music.
As a music fan, O'Connor wrote music reviews for the student newspapers at Catholic Central High School and Western University, both in London, Ontario. As music critic for The Canadian Press news agency, he interviewed icons such as David Bowie, Pink Floyd and U2. He also rediscovered his love for golf.
When former CP staffer John Gordon became editor-in-chief of SCOREGolf, he invited O'Connor to write for the magazine. Bolstered by some writing awards and encouraged by Gordon and Lorne Rubenstein, he plunged into life as a freelance golf writer in 1992.
He became a golf columnist for The Financial Post daily newspaper and editor of its Golf Update section, which provided opportunities for other freelance golf writers. He also wrote for magazines such as Golf Canada, Ontario Golf magazine, Golf Digest, GOLF, Golf World, LINKS, and Golfweek.
As a freelance golf reporter for CBC Radio, he covered tournaments such as the Masters, RBC Canadian Open, and the du Maurier Classic. In addition, he hosted a syndicated show for Telemedia Radio Network, and then a weekly show AM-Talk 640.
His fascination with Moe Norman culminated in the publication in late 1995 of his first book, The Feeling of Greatness: The Moe Norman Story. O'Connor also wrote a history of Devil's Pulpit Golf Association and The Ladies' Golf Club of Toronto. He co-wrote an instructional book based on Norman's swing and edited a book on Ben Hogan's swing.
He transitioned from media consulting for the golf industry to coaching golfers in 2014. He writes a blog on www.oconnorgolf.ca that focuses on golf's mental, physical and spiritual aspects.
In 2015, he launched the Swing Thoughts podcast with Howard Glassman. By late 2022, the podcast was in its seventh year, having produced more than 210 episodes.
Ted McIntyre
One of Canada's best-travelled golf writers has edited most of the nation's leading golf publications, from GolfStyle and Ontario Golf Magazine to National Post Golf, ScoreGolf and Canadian Open supplements for Golf Canada. Based in Oakville, ON, and bearing an honours degree in political science from McMaster University, Ted is a nine-time Golf Journalists Association of Canada award winner, including a 2019 win for his most recent entry, a profile of Corey Conners.
Ted's love of golf journalism began in the mid-1980s as sports editor of the local Glen Abbey community newspaper. His coverage of the Canadian Open was the most extensive in the paper's history. The quality of his first-year Canadian Open coverage with the town paper, The Oakville Beaver, earned Ted a recommendation to ScoreGolf's Bob Weeks. They soon hired Ted as the national magazine's Senior Editor.
In that role, Ted helped reshape the ranking mechanism of Score's Top 100 golf courses. He subsequently fashioned arguably the most transparent and bulletproof golf course ranking in the world as editor of Ontario Golf.
As the first editor of the reinvented Ontario Golf Magazine, Ted generated acclaim for his numerous cover profiles with many of Canada's most treasured personalities, from Kurt Browning, Peter Mansbridge, astronaut Chris Hadfield and the late actor/singer Michael Burgess, to Donovan Bailey, Tom Cochrane and The Tragically Hip, and from Red Green and poker legend Daniel Negreanu to billionaire Robert Herjavek. (Burgess would later cite his OG profile as the best anyone had ever done on him).
As executive editor of GolfStyle, the most upscale golf publication ever created in Canada, Ted continued his award-winning ways as a travel and profile writer, while helping arrange multiple golf fashion shoots and exclusive profiles of a few other notables, including Sean Connery.
His video-filled travels have included the world's most stunning resort in Fiji; the Venice-like canals of Mayakoba in Mexico; the PGA Tour's most rambunctious tournament in Scottsdale, Arizona; the Canadian Rockies; wine and whisky cellars from California to Northern Ireland; as well as countless more of the most sublime destinations known to man.
As a blogger in recent years on his golf/travel/wine website, TheLushLife.ca, Ted's writings have ranged from the business and legal hurdles posed by alcohol being smuggled onto golf courses to a deep dive into memories of 9/11, to his five-part series "The Bogeyman Trail," which explored ghost stories at golf facilities across Canada.
Today he continues freelance golf writing and is currently co-authoring a book celebrating the 100th anniversary of Burlington Golf & Country Club.
Through it all, he has yet to record a single hole-in-one. McIntyre commented, "I've never had that hole-in-one, but I have this, and this will look better on my scorecard."
Scott MacLeod
Scott MacLeod is the Associate Publisher and Editorial Director for Ottawa-based Bauder Media Group
He began working with the company in 1996. He oversees and creates content for Flagstick Golf Magazine, Ontario Golf Digest and their associated digital and social media platforms.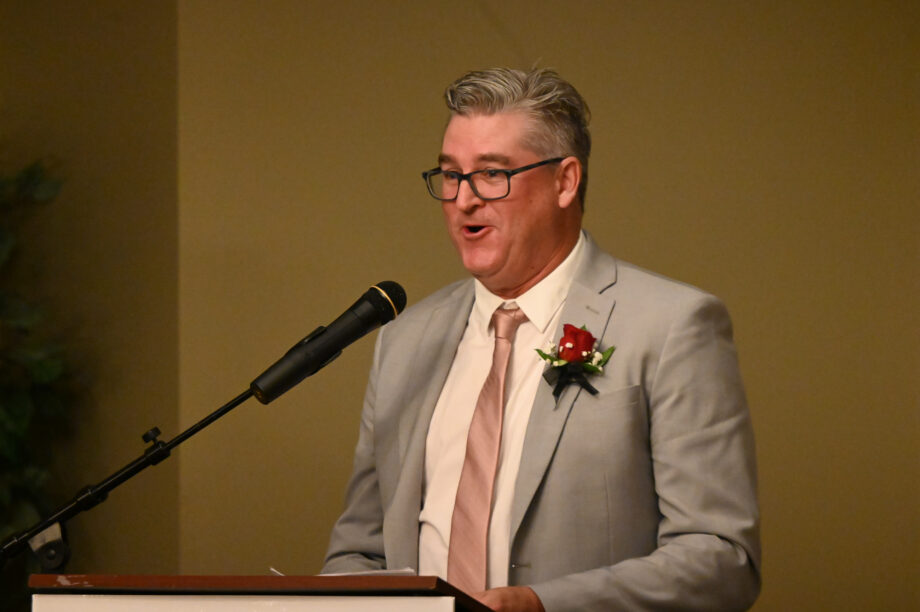 At the age of 15, his first job in the golf industry was on a course maintenance crew in British Columbia. He has gone on to a career in golf spanning more than three decades and involvement in all areas of the game. It has included agronomy, pro shop operations, off-course retail, and a continuing role as a media member and golf teaching professional. He is a Class A member of the PGA of Canada and the Vice-President of Membership for the Golf Journalists Association of Canada. He has also served as a volunteer on various committees for Golf Ontario on a regional and provincial basis in the areas of player development and communications.
As a journalist, he has contributed thousands of stories and photography on all aspects of the golf industry for numerous outlets (magazines, newspapers, books, and websites) throughout Canada and North America, co-hosted two golf podcasts, and is a frequent expert guest for radio shows on CBC and TSN 1200. His work has spanned coverage of the game at many levels, from local and provincial events to the LPGA and PGA TOURs.
He is a graduate of programs at Loyalist College (Health & Recreation Studies), Wilfrid Laurier University (Certificate – Golf Operations) and the Golf Management Institute of Canada (Graduate Studies/Golf Operations Management).
Scott resides in Kingston, Ontario, with his wife, Michelle, and daughter, Ailsa, and is a long-time member of the Garrison Golf & Curling Club.
About Golf Ontario
Golf Ontario is Ontario's Provincial Sport Organization focused on enhancing participation, elevating performance and supporting the passion of golfers in Ontario. With over 100,000 individual members and 500 member clubs, Golf Ontario is one of the largest golf associations in the world. From rating courses and keeping the integral rules of the game intact, to growing the game at the grassroots level and hosting the best amateur tournaments in Canada, Golf Ontario is a passionate group dedicated to shaping lives through Golf.
About the Ontario Golf Hall of Fame
The Ontario Golf Hall of Fame is dedicated to recognizing extraordinary contributions and accomplishments in the game of golf in Ontario. The Ontario Golf Hall of Fame is housed at Wooden Sticks Golf Club in Uxbridge, founded in 2000 by the Ontario Golf Association and the Ontario Ladies' Golf Association.
For more information, please contact:
Peter MacKellar, Manager, Marketing and Communications, Golf Ontario;
PMacKellar@gao.ca